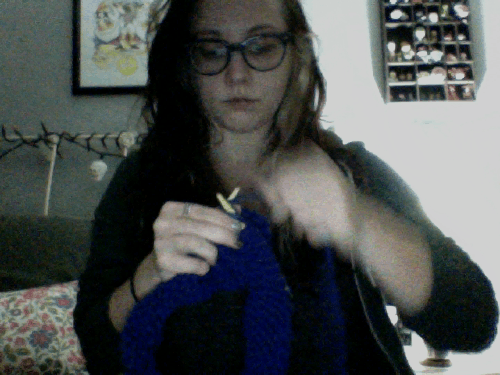 I'm definitely a seasonal knitter. Almost every fall I decide on a new project and I have to re-learn everything. This year is finally making the second cowl I got the yarn to make
two springs
ago. This year I had to figure out how to knit in the round again, which wasn't that hard. But the cowl is definitely twisted and it isn't meant to be. I think it will still look cute? I hope.
I also got more yarn for an potential add-on to my (potential) Halloween costume. I know I technically have 30 days and last year I threw a costume together in a weekend. But I'm worried about finding the last few pieces! It's a legit concern, I swear.
I'm also presently serving on a jury -- which I obviously can't talk about. But it's weird because it feels like such an adult thing to do and I don't really feel like an adult? At least not that much of an adult.
And in other news it looks like I'll actually be working again (for reals, things other than babysitting and petsitting and housesitting) soon! I don't wanna jinx anything but, yay!!!
Also. This season of new shows? BOSS. I'm super pleased with everything I've started to watch. Once Upon a Time is back and I caught up before the season premier on Sunday. Sleepy Hollow is my Monday jam (I'm a sucker for supernatural stuff,) Marvel's Agents of S.H.I.E.L.D. (COULSON LIVES!) and the rest of ABC's Tuesday night programming (none of it is actually it is that noteworthy, but it keeps me entertained while playing New Leaf.) And Elementary is back on Thursdays!
Basically, TV is really really important. I'm still behind on Parks & Rec from last season -- working second shift totally cramped my TV sessions last fall) and I probably won't catch up before whenever the inevitable hiatus is.